Tile Flooring
There are various types of tile for a variety of looks and applications - from light to heavy residential and commercial traffic. Most types come from clay or a mixture of clay and other materials that are kiln-fired. Here's some characteristics to be aware of: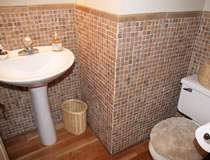 We have a wide selection of tile products from leading manufacturers - even some hard-to-find brands:
Crossville
Casa doice Casa
Fantasy Tile
Royalty Tile
Emser
Laufen Tile
At BFC we also offer Natural Slate and Travertine Tile
Spotlight on Trends in Tile
We take pride in offering many lines of tile that you will not see at every store that you visit. The trend in tile today is to provide a look similar to natural stone as opposed to the glossy ceramic look of 10 years ago. While we do not stock any tile, we have hundreds of samples from which to choose and can get most tile within a few days.
Non-porcelain glazed tiles are softer and easier to cut and more prone to wear
Porcelain tiles are much harder and more damage resistant than non-porcelain
BFC offers you only the highest quality glazed and full body porcelain tiles
Yes! We tile walls and fireplaces to coordinate with your flooring!